The Amoury Company specializes in CCTV video monitoring systems and access control systems integration as well as low voltage data systems, including voice, cable, card readers, electronic key entry systems and more.
When your business is at stake, put your trust in the CCTV systems experts at The Amoury Company. Our state-of-the-art technology solutions provide our clients with peace of mind. You'll know your assets are protected, your production lines are operating at peak efficiency, and your IT technology is functioning at the highest level.
---
Eagle Eye Security Solutions
Cloud Video Surveillance Systems
Eagle Eye Cloud Video Surveillance System Overview
Cloud-based video surveillance designed for the cyber-security conscious customer seeking maximum flexibility in their choices of cameras and locations.
The Eagle Eye Cloud VMS is a cloud security camera system which provides 100% cloud management, 100% mobile and web browser viewing, and if you want – 100% cloud recording. This cloud video system has been architected from the ground up to be all cloud all the time. You can click and add an analog or IP camera at any time. You can click and change how long you keep your recordings.
Discover how the Eagle Eye Cloud Video Surveillance System can help your Business
It's ready to go when you are, and you only pay for what you need. Cloud video surveillance eliminates all the headaches of traditional systems. With the Eagle Eye Cloud VMS, there is no software to buy and install, no license keys, and no OS to maintain. More Details here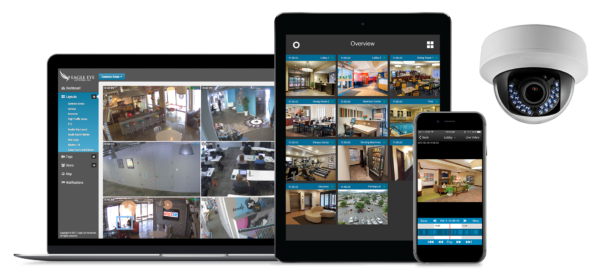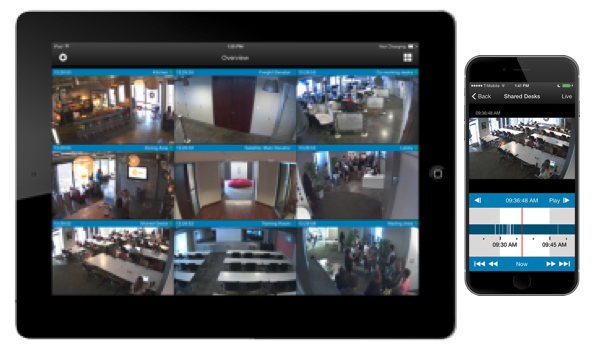 iPhone & iPad
Access and control cloud video surveillance from your phone or tablet.
The Eagle Eye iOS App allows you to view both live and stored cloud video from your phone or iPad to check in on your business from across town or across the country.
2020 Drako $1,000,000 Cloud Video Surveillance Grant for Schools
Improve deterrence, detection and response to incidents while stretching your security dollars with the Drako School Grant. Funding is available to support the implementation and operation of security equipment and cloud recording services at local school buildings and/or campuses.
Why more schools are moving their video surveillance to the Cloud:
Flexible permission-based accessibility: Administrators can see what is happening in any location from any device running the Cloud VMS mobile app or a modern browser.
First Responders access: School VMS administrators have the option to designate first responders to receive real-time and historical video access during emergency situations.
Access control: Integrations with world-class companies like Brivo, DMP and Salto provide customers with comprehensive solutions that combine cloud video surveillance with key access control functions.
IT efficiencies: Reduce the amount of equipment and human resources needed onsite by eliminating the need for maintaining outdated on-site storage systems.
Centralized management: The Eagle Eye Cloud VMS provides central management tools that enable administrators to track user activity and delegate or revoke user access, all from a mobile or web browser.
Unlimited scalability: Eagle Eye Cloud VMS allows customers to expand storage capacity on demand, minimizing capital expenditures and eliminating the need to decide how many servers will be needed in the future.
Cyber security: All Eagle Eye Networks video is encrypted on site and remains encrypted at rest, in flight, and in our Cloud. This means your campus is not subject to unauthorized viewing or recording of school video.
Details:
Eligible schools include accredited private and public schools: elementary schools, middle schools, high schools, and colleges.
Grant recipients will receive one full year of funding for the cloud-based Eagle Eye Cloud Video Management System (VMS) and associated components. The solution includes cameras, gateways, cloud recording services and centralized management. Optionally, schools can use their existing security cameras, and integrate their on-site surveillance system to the Eagle Eye Cloud VMS. School grant recipients are responsible for cost of installation if necessary.
The Eagle Eye Cloud VMS will work with a broad array of IP, analog or HD over coax cameras.
Grant recipients will be notified of next steps within 2 weeks of submission.
---
Amoury Co. CCTV SOLUTIONS
Why does my home or business need CCTV cameras?
Surveillance cameras are a great way to provide security for your home or workplace. As well as providing you with video footage of any events which may happen, they also act as a visible deterrent to criminals.
The Amoury Company provides a range of CCTV cameras, ensuring there is one suitable for every budget. Our range runs from state-of-the-art HD security cameras with 3 megapixel sensors, optical zoom, and pan and tilt functions, through to our great value advanced series range. When connected to a DVR, all of our home surveillance cameras can be accessed remotely from your smartphone, tablet or desktop computer. This allows you to check in on your home or monitor staff at work wherever you are. Many of our security cameras can also be set to be motion activated, recording footage when motion triggers them. Our range of cameras also includes outdoor security cameras and wifi cameras.
Protect what matters to you with a surveillance system.
Day & Night (Nightvision)